Over 60 custom Rapha jerseys available to be won!
The R2//TOURCHALLENGE is a contest running simultaneous with the Tour De France; beginning on Saturday August 29, 2020 and finishing on September 20, 2020. Participants will compete for the YELLOW GC (General Classification) Jersey, the Green Distance Jersey and Polka-dot (KOM) Jersey.

Along with huge bragging rights, there are also more than 60 Custom Rapha Jerseys up for grabs, along with free entries into the 2021 R2//NYC Ride. Visit the prizes page to lear more about how to win.

In a year where kids and families affected by childhood cancer have faced more isolation than ever before, Ooch & Trillium have adapted to provide daily interactive virtual programs and Camp-in-a-Box kits delivered to homes and hospitals all over Ontario. Even in a pandemic, we're there for our Campers. Will you join us?
THE CONTEST
The YELLOW (GC) JERSEY, much like the TDF, will be awarded to the rider with the most cumulative points throughout the challenge period combining distance covered, vertical meters climbed and individual fundraising.

The GREEN JERSEY is awarded daily to the rider with the longest ride on the previous day of the challenge.

The POLKA-DOT (KOM) JERSEY is awarded daily to the rider with the most vertical meters climbed on the previous day of the challenge.

Visit the How it Works page to learn more about the contest.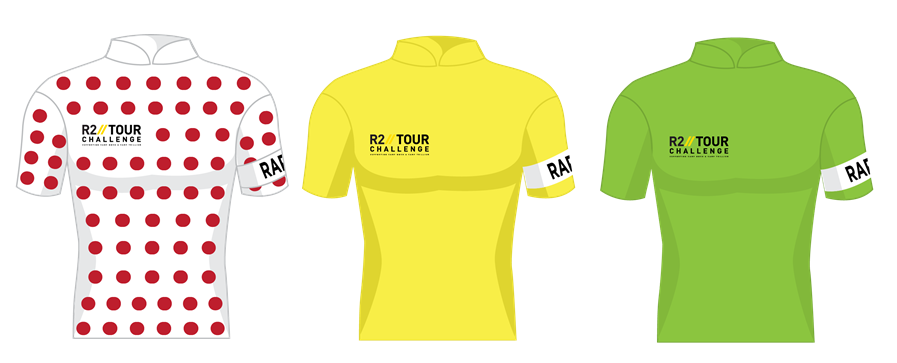 HOW TO REGISTER
Registration is a two-part process.

1) Click the "Sign Up" button at the top of this page to register as an official participant
2) Log-in to or create your personal Strava account and search and join the R2TOURCHALLENGE_2020 Club.

*All participants must join this Strava club to track their kilometres and vertical metres in order to participate in the contest.