2021 R2//TOURCHALLENGE
How it Works
R2//TOURCHALLENGE is a virtual event modelled after the Tour de France (TDF). Riders will challenge themselves throughout the TDF timeframe (June 26, 2021 – July 18, 2021) to ride more kilometres, climb more metres and raise more funds for kids and families affected by childhood cancer than ever before.

Similar to the Tour de France, everything will be tracked using a points system. Riders will be allotted daily points as follows:
1 point per kilometre ridden
0.25 of a point per vertical metre
1 point per dollar fundraised
All kilometres ridden and metres climbed will be tracked using the R2TOURCHALLENGE_2021 Strava Club. Fundraising dollars will be tracked through the R2//TOURCHALLENGE website.

A master leaderboard will calculate your points and assign rankings daily. The winning riders* for each of the 3 jersey categories will be awarded daily and will be announced in a daily email to all riders.
*To qualify for a Rapha prize as a winning rider, a participant must raise a minimum of $500 by the closing of the contest on July 18, 2021. For more information on prizes, please visit the prize page.
Daily Jerseys
Each day, a rider will be recognized as the Daily Jersey Winner in one of the below categories: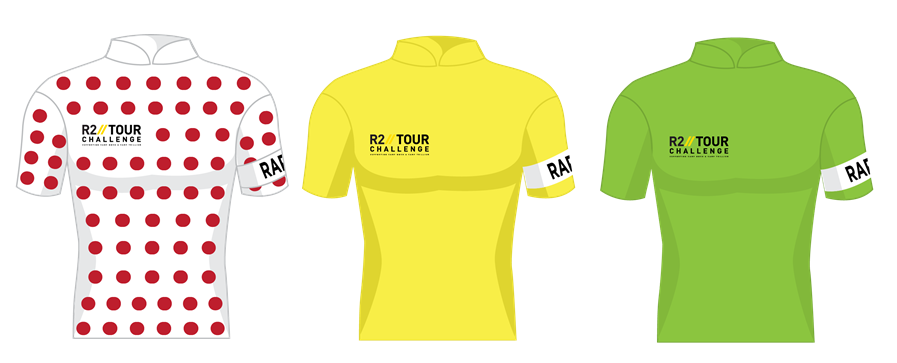 YELLOW JERSEY: Awarded daily to the rider with the most cumulative total points, combining fundraising, vertical metres climbed, and distance ridden over the entire contest period.

GREEN JERSEY: Awarded daily to the rider with the most kilometres ridden on the previous day of the tour

POLKA DOT JERSEY: Awarded daily to the rider with the most vertical metres climbed the previous day of the tour

All riders will receive an email each day announcing the Daily Jersey Winners from the previous day.

At the end of the challenge period, an overall winner in each jersey category will be crowned.